Biography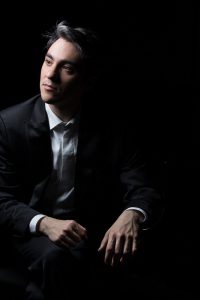 "Alexander has the rare ability to hypnotise the public with his narrative ability. His interpretation of Bach/Busoni's Chaconne was one of the high points of the entire competition. I was genuinely hypnotised by it. Gadjiev has true elegance and passion"
Sergey Babayan, Hamamatsu International Piano Competition 2015
"Alexander Gadjiev is, in my opinion, one of the most important figures in modern European pianism."
Mario Messinis, music critic, Competition "Premio Venezia" 2013.
The young pianist Alexander Gadjiev is a multiple First Prize winner at Internat. Competitions, among them are the First Prize at Sydney International Piano Competition 2021, First Prize and the audience prize at the Ninth Hamamatsu International Piano Competition 2015 – one of the ten most prestigious piano competitions in the world – and the First Prize at "2018 Monte-Carlo World Piano Masters Competition".
In 2019 Alexander Gadjiev was selected by BBC Radio 3 to join the New Generation Artists (NGA) scheme until 2021, which will offer the artist to participate in several renowned festivals throughout Great Britain and to perform as a soloist with orchestra and as a chamber musician as well at prestigious venues like London Wigmore Hall and others. All the concerts will be broadcasted on BBC Radio 3.
Since Alexander won the First Prize of the 9th Hamamatsu International Piano Competition, he has regularly been invited to perform in Japan and at major piano festivals, including: the Verbier Festival, the MiTo Festival in Turin, the Rubinstein Piano Festival in Lodz, the "Chopin" Festival in Duszniki, the ClaviCologne International Piano Festival in Düsseldorf, Piano Festival Rafael Orozco in Cordoba, the Ljubljana Festival, Bologna Festival, Settimane Musicali for the Teatro Olimpico in Vicenza, the Festival Animato de Paris, Ravenna Musica, and the Kammermusik Salzburg Festival.
Among the renowned opera houses and concert halls, the pianist already has performed, are Teatro La Fenice in Venice, Teatro Regio in Turin, Teatro Alighieri in Ravenna, Kioi Hall and Bunka Kaikan in Tokyo, Kitara Concert Hall in Sapporo, Hyogo Performing Arts Center in Osaka, Salle Cortot in Paris, the Moscow Conservatory, and then in Salt Lake City, Istanbul, Barcelona, Rome, Milan etc.).
As a soloist he meanwhile has collaborated with internationally famous orchestras such as Orchestra di Padova e del Veneto, Orchestra Sinfonica del Teatro della Fenice, Orchestre I Virtuosi Italiani, the Tokyo Symphony Orchestra, the Nagoya Philharmonic Orchestra, the Kyoto Symphony Orchestra, the Prague Symphony Orchestra, the Pomeranian Philharmonic Orchestra, the Jerusalem Symphony Orchestra, and the Mitteleuropa Orchestra.
He also has worked with some of the most renowned conductors on an international level: Yuri Temirkanov, Kazuki Yamada, Marek Pijarowski, Ken Takaseki, Anton Nanut, Tatsuya Shimono, Tomomi Nishimoto, Christopher Franklin, Marco Guidarini, Olivier Ochanin, En Shao, Ulrich Windfuhr, Giedre Šlekyte, Gianluca Martinenghi, and Tiziano Severini.
Alexander Gadjiev has recorded for Suonare News and ALM Records Japan, while his concerts were broadcast by Rai Radio3, Rai3, Radio Vaticana, Radio Classica, ORF, RTV Slovenija and Radio Koper. His recent CD, titled "Literary Fantasies", with works by Schumann and Liszt, was released in January 2018 by the label "ACOUSENCE RECORDS".
Alexander Gadjiev was born in 1994 into a family of musicians in Gorizia, Italy. He began his piano studies at the age of five with his mother, Ingrid Silic. He continued his studies with his father, Siavush Gadjiev. At the age of nine, he played 
Haydn's Concerto in C major, receiving glowing reviews from the press. He gave his first recital at the age of ten.
In June 2013, he completed his studies at "Duca degli Abruzzi." From 2013, he has been attending the Master's degree course at the "Mozarteum" of Salzburg under the guidance of Prof. Gililov.
In November 2013, he won the National Competition "Premio Venezia" in Italy.
Alexander Gadjiev currently is studying not only in Salzburg, but also with Prof. Eldar Nebolsin at The Hochschule für Musik Hans Eisler in Berlin.
Piano and Orchestra
Concerto Op. 38
Concerto in E major, Sz. 119, BB 127
Concerto 2 in B major Op. 19
Concerto no. 3 in c minor, Op. 37
Concerto 5 n E flat major Op.73
Concerto Op. 15 in d minor
Concerto no. 2 in f minor Op. 21
Concerto in a minor Op.16
Danse macabre S.126
Concerto in d minor K 466
Concerto in B flat major K 595
Concerto for two pianos + orchestra E flat major K365
Concerto no 3 in C major, Op 26
Concerto no. 2 in c minor, Op. 18
Concerto no. 3 in d minor, Op. 30
Concerto no.1 Op.35
Concerto no.1 in b minor Op. 23
Programs
piano
Program 1
Intermezzo in a minor, Op.118
Etudes d'execution trascendante "Mazeppa" "Chasse neige"
Intermission
Andante with Variations in f minor Hob. XVII/6 
from "Vingt regards sur l'enfant Jesus" Nr.13
Suite en plein air Sz 81, BB 89 
_______________________________
Program 2
Sonata no .21 in C major Op.53 "Waldstein"
Sonata quasi una fantasia "Dante"
Intermission
Variations for piano no. 6 in F major, Op.19 
Sonata for piano no. 6, Op.82
_______________________________
Program 3
Intermezzo in a minor, Op.118
Bagatelles, Op. 119
Suite en plein air (Im Freien), Sz 81, BB 89
_______________________________