Biography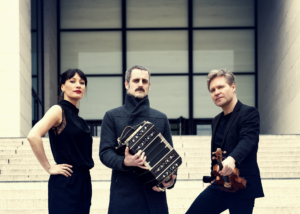 Argentine bandoneon player and composer Omar Massa referred to by the european press as "the unofficial successor to the great Astor Piazzolla" and praised in Argentina as "one of the most brilliant bandoneonists of recent times", debuted at the age of 6 years playing Piazzolla´s music at the tango cafes in Buenos Aires.After being nominated for the most important award in the recording industry of Argentina for his CD "Tribute to Piazzolla", the family of Astor Piazzolla invited him to play Piazzolla's bandoneon, 25 years after his death – Massa being the only musician allowed to do that.
After moving to Berlin in 2018 Massa met the great violinist Markus Däunert (Concertmaster & co-founder of Claudio Abbado's Mahler Chamber Orchestra and collaborator of internationally renowned artists like Daniel Harding, Kurt Masur, Martha Argerich, Bernhard Haitink, Trevor Pinnock and Alexander Lonquich among others) playing a programme dedicated to Piazzolla's music at "Hellensmusic Festival" in the United Kingdom, together with the Berlin Philharmonic soloists Máte Szücs and Bruno Delepelaire.
The French pianist Kim Barbier not only is having an international solo career, but she also is a highly acclaimed chamber musician. For many years she was a member of the renowned Berlin Piano Quartet. One of the Quartet's members: Bruno Delepelaire again, the first solo cellist of the Berlin Philharmonic.
Being the Bandoneon, Violin and Piano the key instruments for the interpretation of Piazzolla's music and Tango Nuevo, in 2021 Massa invited to Däunert and Barbier to perform as the Massa Trio, unifying his own musical tradition with their high artistic level. The result is a powerful and deeply emotional sound, which raises Tango Nuevo to higher spheres".
bandoneon, violin, piano
Programm 1 
100 years of Piazzolla and the legacy of Tango Nuevo.
Piazzolla's music arranged and performed in it's original style and new works by Massa carrying the tradition of Tango Nuevo into the XXI century.
FIRST PART:
1. Piazzolla, Michelangelo 70 (3 min)
2. Piazzolla. Soledad (7 min)
3. Piazzolla, La muerte del Angel (3 min)
4. Piazzolla, Adios Nonino (8 min)
6. Piazzolla, Milonga del Angel (6 min)
7. Piazzolla, Escualo (3 min)
5. Piazzolla, Tangata (10 min)
(40 min)
SECOND PART:
1. Piazzolla, Oblivion ( 5 min)
2. Piazzolla, Fugata (3 min)
3. Massa, Tango Meditation n1 (4:30 min)
4. Massa, Buenos Aires Ritual (4:40 min)
5. Massa, Buenos Aires Resonances (5 min)
6. Massa, Kageliana (4 min)
7. Massa, Canto del Payun Matru (5 min)
8. Massa, Negro Liso (3:30 min)
9. Massa, Tango Legacy (5:30 min)
(40 min)
Encore: Piazzolla, Libertango (4 min)