Biography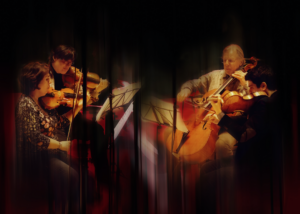 Mihaela Martin (violin), Conrad Muck (violin), Michael Barenboim (viola), Frans Helmerson (violoncello)
The Michelangelo Quartet was formed in 2002 by four musicians distinguished as soloists, chamber musicians and teachers, who share an irresistible desire to play together the greatest repertoire of all.
Since their first concert season, 2003/4, they have toured regularly in Scandinavia, Benelux, the UK, Germany, Italy and Japan, giving concerts in major halls such as the Concertgebouw Amsterdam, Carnegie Hall, Suntory Hall, Théâtre des Champs Elysées, Paris, Tonhalle Zürich, and London's Wigmore Hall.
Festival appearances have included Edinburgh, Sion, Naantali, Hardanger, the Pablo Casals Festival, Prades, and the Delft and New Zealand Chamber Music Festivals.
During the 5 years of its existence, critics have consistently praised the quartet for the collective virtuosity and experience of its members, as well as their musicality and intensity of feeling. They have recently embarked on a project to record all the Beethoven Quartets.The Quartet has performed the complete Beethoven quartets cycle in Scotland in the season 2012/2013 and in Japan 2015.
The Romonian violinist Mihaela Martin has continued, through her teacher Stefan Gheorghiu, a violinistic line including David Oistrakh and George Enesco.
Major prizes in the Tchaikovsky Competition and the First Indianapolis International Violin Competition, ensured her international career.
Zu ihren Kammermusikpartnern zählen Martha Argerich, Yuri Bashmet, Elisabeth Leonskaja, Nobuko Imai und Leon Fleischer & Menahim Pressler. Her chamber music partners have included Martha Argerich, Yuri Bashmet, Elisabeth Leonskaja, Nobuko Imai, Leon Fleischer & Menahem Pressler. She is a professor at the Musikhochschule Cologne, Kronberg Academy and since 2016 at the Barenboim-Said Academy in Berlin.
Conrad Muck has led both the internationally renowned Petersen Quartet and the prestigious Leipzig String Quartet. He is well known as a soloist, chamber musician, teacher and a jury member at several International competitions.
Michael Barenboim is internationally renowned mainly as a violinist. As a soloist he performs throughout the world with major orchestras like Berlin Philharmonic (under the baton of V. Petrenko), Vienna Philharmonic (under D. Barenboim), Chicago Symphony (under A. Fisch), and Israel Philharmonic under Z. Mehta. 
Parallel to his solo concert and recital performances, Barenboim also serves as concertmaster of the West-Eastern Divan Orchestra and cultivates a continuous and strong involvement in educational activities. He is Head of Chamber Music in the newly founded Barenboim-Said Academy and gives master classes around the world.
As a member of the Michelangelo String Quartet the musician will not play the violin, but the viola!
Combining his love of chamber music with a solo career, Swedish cellist/conductor Frans Helmerson has performed with leading conductors and orchestras and at important international festivals. During the 1970's he was principal 'cellist of the Swedish Radio Symphony Orchestra, where he received important musical influences from Celibidache. William Pleeth and Rostropovich have also been important influences. He holds a professorship at the Musikhochschule in Cologne and since 2016 at the Barenboim-Said Academy in Berlin.
Programme
1C (C= Corona, without intermission) 
string quartet Op.18 no. 3
Debussy
string quartet
From my Life
string quartet Op.76.1 G major (tbc)
string quartet no. 2
string quartet no. 2
string quartet Op.76 no.1
string quartet no.1
"Dead and the Maiden"
1)
String quartet in F major, Op.18/1
String quartet no.1 in a minor, Op.7 Sz 40
————————-
String quartet no.1 "Z mého zivota / Aus meinem Leben" T 116
2)
String quartet no. 3 Sz 85

String quartet no. 2 in G major, Op. 22/2
————————-
String quartet no.1 in E flat major, Op. 127 

3)
String quartet, Op.18 Nr.6
String quartet no. 3
————————-
String quartet no.12 in F Major "American"
4)
Quartet Movement
String quartet no.1
————————-
String quartet, Op 22, no.2 
5)
String quartet, Op.74 no. 3
String quartet no.2
————————-
String quartet, Op. 51 no. 2
6)
String quartet no.3
3 pieces for String quartet
————————-
Concertino
String quartet, Op.131
7)
String quartet no.3 Sz 85
String quartet no.3 in G major, Op. 22
————————-
String quartet no.12 in F Major 'American'