Biography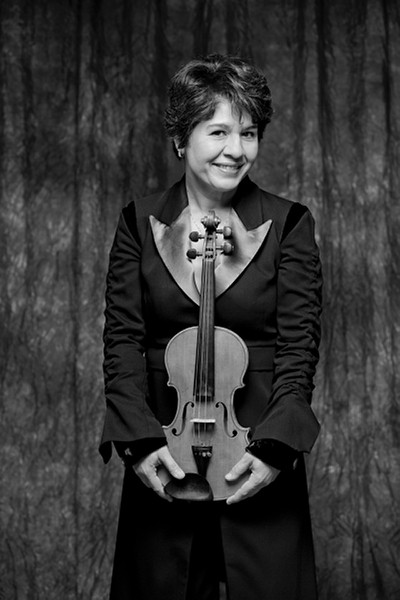 The Romanian-born artist Mihaela Martin is one of the most outstanding violin virtuosos of her generation. Her father gave her her first violin lessons when she was five years old. She later studied with Stefan Gheorghiu, who was himself a pupil of George Enescu and David Oistrakh.
At the age of 19, Mihaela Martin won second prize in the International Tchaikovsky Competition in Moscow, which was followed by further main prizes in Montreal, Sion and Brussels. Being awarded first prize in the International Violin Competition of Indianapolis launched her international career. She has performed with leading orchestras such as the BBC Symphony, the Royal Philharmonic and the Montreal Symphony Orchestra, as well as the Mozarteum Orchestra of Salzburg and the Leipzig Gewandhaus Orchestra. She has worked with conductors such as Kurt Masur, Nikolaus Harnoncourt, Charles Dutoit and Neeme Järvi.
Chamber music has a very important place in Mihaela's life In addition to participating in many chamber music festivals, she is a founding member of the Michelangelo String Quartet since 2003 with whom she performed in Carnegie Hall, Boulez Hall, Wigmore Hall, Library of Congress, Concertgebouw, Theatre de Champs Élysée.
Since 2017 she is artistic director of the Rolandseck Chamber music Festival.
Mihaela Martin is a professor at University of Music in Cologne , at the Barenboim-Said Academy in Berlin and at the Kronberg Academy.
She also gives masterclasses throughout the world and is a regular jury member at important international competitions such as the Queen Elisabeth (Belgium), Indianapolis (USA), Enescu (Romania) and Tchaikovsky (Russia).
Mihaela Martin plays a violin by J G Guadagnini that dates from 1748.
Concerto repertoire:
– Concerto in E major – Concerto in a minor – Concerto in d minor (piano concerto transcribed for violin – Concerto for two violins in d minor – Brandenburg Concertos  –
L. v. Beethoven:
– Concerto in D major – Triple Concerto – Romance in G major – Romance in F major –
J.Brahms:
– Concerto in D major – Double Concerto for violin and cello –
B. Bartok:
– Concerto no.1 – Concerto no. 2 –
B. Britten:
M. Bruch:
– Concerto in g minor – Concerto in d minor – Scottish Fantasy –
A. Berg:
L. Bernstein:
P. Bentoiu:
A. Dvorak:
E. Elgar:
A. Glazunov:
S. Gubaidulina:
J. Haydn:
– Concerto in C major – Concerto in G major –
Korngold:
Khachaturian:
– Concerto – Concert Rhapsody –
E. Lalo:
W. A. Mozart:
– Concertos no.1-5 – Sinfonia concertante –
F. Mendelssohn-Bartholdy:
– Concerto in e minor – Concerto in d minor for violin and piano –
Nardini:
C. Nielsen:
S. Prokofiev:
– Concerto nr.1 in D major – Concerto no.2 in g minor –
N. Paganini:
– Concerto nr.1 in D major – Concerto no.2 in b minor –
I. Stravinski:
R. Schumann:
C. Saint-Saens:
– 
Concerto no.3 in b minor –
K. Szymanowski:
D. Shostakovich:
A. Schönberg:
J. Sibelius:
P. I. Tchaikovsky:
Vaughan-Williams:
M. Tippett:
– Triple Concerto (violin,viola,cello) –
A.Vivaldi:
H. Vieuxtemps:
– Concerto no. 4 – Concerto no. 5 –
H. Wieniawski: 
– Concerto no.1 in f sharp minor – Concerto no.2 in d minor –  
Programs
Program 1 (with the pianist Elena Bashkirova)
F. Schubert
Sonatina in D major
G. Ustwolskaya
Sonata no.5 for piano
E. Ysaÿe
Sonata no.4 for solo violin
intermission
R. Schumann
3 Romances Op.94
Sonata no.1 in a minor Op.105
Program 2 (with the pianist Elena Bashkirova)
L.v. Beethoven
Sonata no.5, Op.24
G. Ustvolskaya
Sonata no.5 ( solo piano)
George Benjamin
3 Miniatures ( solo violin)
Intermission
Clara Schumann
Romances Op.22
F. Schubert
Rondo brillant in b minor
Program 3 
Mendelssohn, F.:
Stravinsky, I.:
Intermission
Enescu, G.:
Program 4: 
Schumann, R.:
Penderecki, K.:
Intermission 
Dvorak, A.:
Schubert, F: