Biography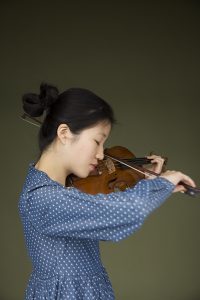 Sophie Wang has been shining on international music scenes since making her debut in Festspielhaus Baden-Baden at the age of ten. She has appeared in various concert halls such as Konzerthaus Berlin, Festspielhaus Baden-Baden, Kurhaus Baden-Baden, Festspielhaus Bregenz, Tonhalle Zurich, Stadthaus Winterthur, Shenzhen Concert Hall and  National Concert Hall Taipei.
As soloist she performs regulary with the Südwestdeutsche Philharmonie Konstanz, Staatskapelle Weimar, Philharmonie Baden-Baden, Philharmonie Jena, Deutsche Spohr Philharmonie, National Symphony Orchestra Taiwan (NSO), Südwestdeutsche Kammerphilharmonie Pforzheim, Zürcher Kammerorchester, Mitteldeutsche Kammerphilharmonie, Salzburg Chamber Soloists, Russische Kammerphilharmonie St. Petersburg, Philharmonischen Solisten Stuttgart, Junges Sinfonieorchester Berlin, Junges Sinfonieorchester Wetzlar and Loh-Orchester Sondershausen. Her chamber music partners include Jana Bouskova, Florian Donderer, Elisabeth Kufferath, Gustav Rivinius, Alexander Rudin, Edicson Ruiz, Gabriel Schwabe and Antje Weithaas.
Besides, she was invited to Schleswig-Holstein Musik Festival, Kronberg Academy Festival, Menuhin Festival Gstaad, Klassikfestival AMMERSEErenade, Internationaler Violinfestival Junger Meister, Salzburger Kammermusikfestival and Langenargener Schlosskonzerte. In 2016, Sophie Wang made her Debut at SPANNUNGEN Heimbach Chamber Music Festival, which is artistically directed by Lars Vogt. 
Highlights of the past season were Debut in Konzerthaus Berlin, concerts with the Central German Chamber Philharmonic, tour with the South West German Philharmonic and South West German Chamber in Festspielhaus Bregenz, Konstanz and Lindau as well as her Debut with Zürcher Kammerorchester in Tonhalle Zurich. In the 2017/2018 season, she will be performing Bach Double Concerto with the National Symphony Orchestra (NSO) and chamber music with Alexander Rudin in National Concert Hall Taipei. The recording of her first CD album with the German label ARS will take place in 2018.
Sophie Wang is supported by Mozart Gesellschaft Dortmund, Internationalen Musikakademie Liechtenstein and CHIMEI Museum & Culture Foundation. After winning the 1st Prize of the International Louis Spohr Violin Competition Weimar (2013), Sophie Wang became First Prize Winner at the International Violin Competition Andrea Postacchini Fermo (2014). First Prize at International Wolfgang Marschner Competition Freiburg (2010), First Prize at International Paul Hindemith Violin Competition Berlin (2011) and First Prize at International ÖJAB Music Competition Vienna (2015). Additionally, she received CHIMEI Museum & Culture Foundation Arts Award 2016 and 2017, Youth Classics Award Zürich (2012), Carl-Flesch Prize Baden-Baden (2011), Ruth-Flesch Gedächtnispreis Baden-Baden (2009). On the piano, she won First Prize at International Piano Competition of  Deutsche Tonkünstler Verband Stuttgart 2008.  
The film "The Island of 1000 Violins" (ARTE 2014) tells the story of her musical life and journey.
Born in 1999 in Taiwan, Sophie Wang received her first violin lesson at the age of five. She studied under Rainer Kussmaul, Igor Ozim and Boris Kuschnir. Currently, she studies at Hochschule für Musik Hanns Eisler Berlin with Ning Feng.
She performs on a Lorenzo Storioni violin (Cremona 1780) on a generous loan from CHIMEI Foundation. 
Concerto repertoire
Bartok:
Bruch:
Violin Concerto in g minor
Glazunov:
Violin Concerto in a minor
Haydn:
Violin Concerto in G major
Mendelssohn:
Violin Concerto in d minor,Violin Concerto in e minor
Mozart:
Violin Concerto no. 2 K 211,Violin Concerto No. 3 K 216
Paganini:
Violin Concerto no. 2 in h minor
Sibelius:
Violin Concerto in d minor
Vivaldi:
Violin Concerto in G major
Virtuoso works with orchestra
Marschner:
Paganini variations on an own theme
Paganini:
La Campanella, Le Streghe, Moses fantasy
Ravel:
Saint-Saens:
Introduction et Rondo Capriccioso
Caprice d'apres l'etude en forme de Valse
Sarasate:
Introduction et Tarantella, Op. 43, 
Romanza Andaluza, Op. 22; 
Malaguena, Op.21; "Carmen"-Fantasie, Op. 25
Schubert:
Tschaikowski:
Wieniawski:
Souvenir de Moscau, Op. 6
Variations on a own theme, Op.15
Programmes
Programme 1 (violin / piano)
Prokofiev: Cinq Melodies
Prokofiev: Sonata for violin & piano in f minor no.1
-Intermission-
Debussy: Sonata for violin & piano in g minor L.140
Franck: Sonata for violin & piano
Programm 2 (violin / piano)
Prokofiev: Cinq Melodies
Prokofiev: Sonata for violin & piano in f minor no.1
-Intermission-
Franck: Sonata for violin & piano
Saint-Saëns: Introduction et Rondo Capriccioso
Programm 3 (violin / violoncello)
Kodaly: Duo for violin & violoncello Op. 7
Bach: Chaconne in d minor
-Intermission-
Bach: Suite no. 6 BWV.1012 (prelude, allemande, gigue)
Hindemith: Solo sonata (cello)
Ernst: The last rose (violin solo)
Schulhoff: Duo "Zingaresca"
C. Gardel: Tango "Por una cabeza"