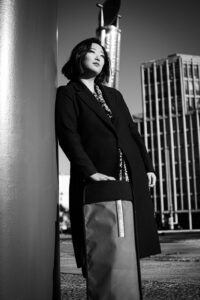 Sueye was born in South Korea in 2000 and began studying the violin at the age of four. Her musical gifts were recognized early on, and at the age of just nine she began her studies with Ulf Wallin at the Hochschule für Musik "Hanns Eisler" in Berlin and later at the University of Music and Performing Arts in Vienna with Clive Brown.
She plays as a soloist and chamber musician with the same devotion. Sueye has performed with orchestras including the Orchestra of the Komische Oper Berlin, the Staatskapelle Weimar, the Korean Symphony Orchestra and the Seoul Philharmonic Orchestra. She has also performed at various festivals and concert halls in whole Europa, Israel, Tunisia, Indonesia and South Korea. Performances with Adrian Brendel, Ralf Gothoni, Gary Hoffman, Tatjana Masurenko, Roland Pöntinen und Nicolas Stavy.
Sueye has participated in numerous radio and TV broadcasts in Germany, Israel, South Korea, Spain and Sweden. In 2017 her début disc was released, a critically acclaimed recording of the 24 Paganini Caprices [BIS-2282], followed by a recital disc, 'Salut d'amour' [BIS-2382]. Her album with works for Violin Solo: 'Journey Through a Century' [BIS-2492] was selected as Editor's Choice as the "Recordings of the Year" by Gramophone in 2021. The 3. Violin Concerto of Isang Yun with the Seoul Philharmonic Orchestra conducted by Osmo Vänskä and the complete works for violin & piano of Karol Szymanowski with the pianist Roland Pöntinen will be released in 2022.
Her solo repertoire includes works (from Bach and Biber to Isang Yun and Luciano Berio) as well as the great Romantic and Classical concertos and contemporary works for violin and orchestra.
She received valuable artistic impulses from Saschko Gawriloff, Ivry Gitlis, Ida Haendel, Nobuko Imai, Mihaela Martin, Donald Weilerstein. She has taken part in numerous masterclasses, for example at the Keshet Eilon International String Mastercourse in Israel, the Seiji Ozawa Academy in the Switzerland and the Kronberg Academy.
Sueye plays a violin of Ferdinand Gagliano von 1785.
Audio/Video
Concerto repertoire
J.S. Bach
Concerto No.2 in E major, BWV 1042
Béla Bartók
Concerto No.1, Sz.36 Op. posth.
Concerto No.2 in B minor, Sz.112 (1938)
Ludwig van Beethoven
Concerto in D major, Op.61
Johannes Brahms
Concerto in D major, Op.77
Max Bruch
Concerto No.1 in G minor, Op.26
"Scottish Fantasy" in E flat major, Op.46
Ernest Chausson
"Poème", Op.25
Aram Chatschaturjan
Concerto in D minor (1940)
Antonin Dvořák
Concerto in A minor, Op.53
Edward Elgar
Concerto in B minor, Op.61
Wilhelm Heinrich Ernst
"Othello-Fantasy", Op.11
Alexander Glazunov
Concerto in A minor, Op.82
Joseph Haydn
Concerto No.4 in G major, Hob. VIIa (1796)
Dmitri Kabalevsky
Concerto in C major, Op.48
Erich Wolfgang Korngold
Concerto in D major, Op.35
Édouard Lalo
"Symphonie Espagnole" in D minor, Op.21
Felix Mendelssohn Bartholdy
Concerto in E minor, Op.64
Wolfgang Amadeus Mozart
Concerto No.1 in B-flat major. KV.207
Concerto No.2 in D major, KV.211
Concerto No.3 in G major, KV.216
Concerto No.4 in D major, KV.218
Concerto No.5 in A major, KV.219
Sinfonia Concertante in E-flat major, KV.364
Carl Nielsen
Concerto, Op.33 (1911)
Niccolò Paganini
Concerto No.1 in D major, Op.6
Astor Piazzolla
"Las Cuatro Estaciones Porteñas"
Sergej Prokofiev
Concerto No.1 in D major, Op.19
Concerto No.2 in G minor, Op.63
Maurice Ravel
Tzigane, Op.76
Camille Saint-Saëns
Introduktion et Rondo capriccioso, Op.28
Caprice d'apres l'etude en forme de Valse, Op.52, No.6 (arr. by Ysaÿe)
Pablo de Sarasate
Zigeunerweisen, Op.20
Franz Schubert
Rondo in A major, D.438
Dmitri Shostakovich
Concerto No.1, Op.77
Jean Sibelius
Concerto in D minor, Op.47
Humoresque No.1&2, Op.87
Karol Szymanowski
Concerto No.1, Op.35
Concerto No.2, Op.61
Peter Iljitsch Tchaikovsky
Concerto in D major, Op.35
Valse-Scherzo, Op.34
Franz Waxman
"Carmen-Fantasy" (1946)
Antonio Vivaldi
"Le Quattro Stagioni"
Henryk Wieniawski
Concerto No.1 in F-sharp major, Op.14
Fantasy on Themes from Gounods "Faust", Op.20
Isang Yun
Concerto No.3 (1992)
Programs
Sueye (violin), Andrei Banciu (piano)
Rondo brillante in b minor, Op. 70 D.895
Sonata for violin and piano in A major, Op. 162, D.574 "Grand Duo"
– intermission-
Fantasy for piano and violin in C major, Op. 159, D.934
_________________
Program 2
Franz Xaver Wolfgang Mozart (1791-1844)
Sonata in F major, Op. 15
Sergej Prokofiev (1891-1953)
Sonata No. 2 in D major, Op.94a (1944)
– intermission –
Arnold Schönberg (1874-1951)
Fantasy, Op.47 (1949)
Richard Strauss (1864-1949)
Sonata in E flat major, Op.18
_________________
Programm 3
Ludwig van Beethoven (1770-1827)
Sonata No.3 in E flat major, Op.12/3
Igor Strawinski (1882-1971)
Divertimento – Suite from ballet "The fairy's kiss"
– intermission –
Olivier Messiaen (1908-1992)
"Thème et Variations"      oder
Sergej Prokofiev (1891-1953)
Three pieces from "Romeo & Juliet, Op.64
Camille Saint-Saëns (1835-1921)
Sonata No.1 in d minor, Op.75
_________________