Biography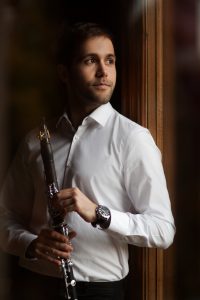 Sérgio Fernandes Pires, born 1995, won more than a dozen prizes at international competitions. Among them are many First Prizes.
As soloist, the clarinetist already has performed with renowned orchestras like Bremen Philharmonic (Germany), Chamber Orchestra Basle (Switzerland), Musikkollegium Winterthur, Orchestra Filarmonicii de Stat Transilvania, Basle Symphonic Orchestra, Silesian Chamber Orchestra (Poland) and Argovia Philarmonic, playing pieces by W. Mozart, J. Stamitz, C. Weber, G. Rossini, K. Penderecki, F. Danzi, and C. Nielsen.
As a highly requested chamber musician Sérgio Pires regularly performs with famous artists like Heinz Holliger, Michael Collins and many others. The clarinetist meanwhile has participated in several highly acclaimed international music festivals. Among them are the "European Music Campus" (Austria), "Kultursommer Nordhessen" (Germany), BBC Proms (England), Schleswig-Holstein Festival (Germany), "Isang-Yun Festival" (South-Korea), "East Neuk Festival" (Scotland) and "Festival Bozen" (Italy).
In 2021 Sérgio Pires has given his highly acclaimed debut at Palau de la Musica in Barcelona.
Alongside his activities as a soloist and chamber musician, he is the solo clarinet player with the Winterthur MusikKollegium (Switzerland) since 2016.
In 2022 the German Label CAvI Music has released Sérgio Pires' most recent CD "Les Six – Merci et Adieu, Claude". 
Since 2019, he is teaching at the Minho University, Portugal.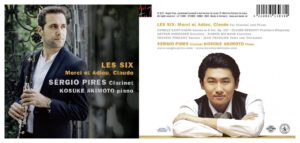 Spotify: click
Concertino, Op. 48
Concerto
Concerto no. 2, Op. 5
La ci darem la mano
Premiere Rapsody
Concerto
Concerto for 2 clarinets and orchestra, Op. 35
Concerto for 2 clarinets and orchestra, Op.91
Concerto in A major K 622
Sinfonia Concertante for 4 winds and orchestra KV 297
Concerto, Op. 57
Concerto no. 2
Concerto Op. 29
Introduction; Theme and Variations
Concerto no. 4, WoO 20
Concerto in B major
Concertino for bassoon und clarinet TrV 293
Concerto no. 2, Op. 74
Program
clarinet (Sérgio Pires), viola (Diyang Mei), piano (Kosuke Akumoto)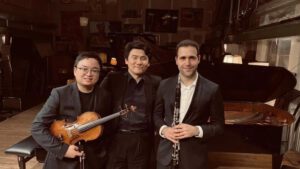 W.A. Mozart
"Kegelstatt-Trio" E flat major KV 498″
R. Schumann
Fairy Tales Op.132
Intermission
Max Bruch
Eight Pieces for clarinet, viola and piano Op.83
________
clarinet + piano
Program 1
Sonata Op. 120 no. 2 (20')
Premiere Rapsody (8')
Rigolletto (11')
(Intermission)
W. Lutoslawski
Dance Preludes (12')
Arpeggione: (25')
________________________________
Program 2
Sonata Op. 120 n.1 (25')
Dance Preludes (15')
(Intermission)
Sonata (16')
Hommage a Strauss (3')
Sonata (15')
________________________________
Program 3
Sonata Op. 120 n. 1 (25')
Sonata (11')
adagio and allegro (9')
(Intermission)
Sonata (16')
Sonatina (8′)
Rigolletto (11′)
________________________________
clarinet, violoncello and piano
Trio in a minor for clarinet, violoncello and piano Op. 114 (24′)
Trio for clarinet, violoncello and piano Op. 11 ("Gassenhauer-Trio") (22′)
Trio d-Moll for clarinet, violoncello and piano Op. 3 (26′)
Miniatures for Trio (11′)
_______________________________
soprano, clarinet and piano, 
Program 5
F. Schubert
"The Shepherd on the Rock" (Der Hirt auf dem Felsen), D. 965 (9′)
H. Holliger
Relics (to be finished)
Rigolletto (11')
Intermissen
W. Lutoslavski
Dance Preludes (15′)
F. Poulenc
Sonata FP. 184 (15′)
L. Spohr
6 German Songs Op. 103 (23′)
_______________________________