Biography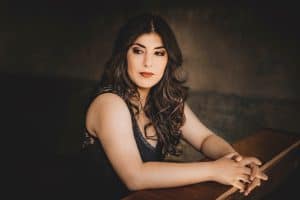 "It is very rare that a young musician is dedicated to the music of Bach as Schaghajegh Nosrati is. She understands and plays this great music with astonishing clarity, purity and maturity." (Sir András Schiff)
Schaghajegh Nosrati´s career already is marked not only by several prizes at national and international piano competitions, but also by highly praised performances at prestigious venues in Europe, USA and Asia. She won first prizes at the Rotary piano competition in Essen (2006), the Van Bremen piano competition in Dortmund (2007) and the National Bach competition for young pianists in Köthen (2005). In 2014, she won the second prize at the renowned International Bach Competition in Leipzig. Furthermore she was awarded a gold medal at the international Concours pour jeunes solistes in Luxemburg, and she was a prize winner of the International Indonesia Pusaka Piano Competition (2012).
Schaghajegh Nosrati recently has performed at prestigious venues and festivals like Lucerne Festival, Berlin Philharmonie, Berlin Konzerthaus (with the German Chamber Orchestra Berlin), Vancouver Playhouse, Anneliese Brost Musikforum (with the Bochum Symphonics under the baton of Steven Sloane) and at Beethovenhaus Bonn.
In 2018 Schaghajegh Nosrati was on tour with Sir András Schiff and the Cappella Andrea Barca to play J.S. Bach's Concertos for two pianos and orchestra at Vienna Musikverein, Mozarteum Salzburg, Elbphilharmonie Hamburg, Tonhalle Düsseldorf, Konzerthaus Dortmund, Palais des Beaux Arts (Brussel) and Lucerne Festival. 
In 2017 Schaghajegh has given her debut in China. On this tour, the pianist played recitals in several main cities of China (Beijing, Shanghai and others).
In 2015/2016 the pianist has been invited by Sir András Schiff to take part in the "Building Bridges" concert series with recitals in Frankfurt (Holzhausenschlösschen), Berlin (Kd211), Zurich (Tonhalle), New York (92y), Brussels (Palais des Beaux Arts) and Dusseldorf (Schumannfest).
The German CD label Genuin Classics has released two highly acclaimed CD's with Shaghajegh Nosrati. For her debut Cd in 2015 she has recorded J.S. Bach's "Art of Fugue" and for her 2nd CD in 2017 Bach's Concertos for piano and orchestra played with the German Chamber Orchestra Berlin (Deutschen Kammerorchester Berlin).
In October 2019 the German label CAvI Music has released the pianist's recent CD. For this CD Schaghajegh Nosrati has recorded works for solo piano by Charles Valentin Alkan.
Born in Bochum (Germany) in 1989, Schaghajegh Nosrati learned playing the piano at the age of four. As from 1997, she was a pupil of Rainer Maria Klaas. In 2007 she attended the Hochschule für Musik und Theater Hannover as a young student of Prof. Steen-Nökleberg and was a full-time student in the piano class of Prof. Oakden from 2008 to 2015. After receiving her Master´s degree in 2015 she has been studying in the Solo Performance Class with Prof. Ewa Kupiec. She received additional artistic inspiration from Robert Levin, Angela Hewitt, Murray Perahia, Daniel Barenboim and Sir András Schiff.
J.S. Bach:
Harpsichord Concertos BWV 1052-1058
L. van Beethoven:
Piano Concerto no. 4 in G major Op. 58
J. Brahms:
Piano Concertos Op. 15 & Op. 83
Chopin:
Piano Concerto no. 2 in f minor Op. 21
Fantaisie for Piano and Orchestra, L. 73
E. Grieg:
Piano Concerto in a minor Op. 16
F. Liszt:
Piano Concerto no. 2 in A major S. 125
W.A. Mozart:
Piano Concerto no. 20 in d minor K 466
Poulenc:
Piano Concerto FP. 146
S. Prokofiev
Piano Concerto Nr. 2 in g minor Op. 16
S. Rachmaninov:
Piano Concerto no. 1 in f sharp minor Op. 1,
Piano Concerto
 no. 2 in c minor Op. 18
Piano Concerto no. 3 in d minor Op. 30,
Rhapsody on a theme by Paganiniop. 43
Piano Concerto in G major, M. 83
Anton Rubinstein:
Piano Concerto no. 2 in F major, Op.35
Piano Concerto no. 4 in d minor, Op.70
Programm 1: Music and Nature
Johann Sebastian Bach (1685-1750):
Partita No. 1 in B flat major BWV 825
Praeludium,
 Allemande,
 Corrente,
 Sarabande,
 Menuett I – Menuett II – Menuett I, Gigue
Ludwig van Beethoven (1770-1827):
Sonata op. 28 in D major,
Allegro,
 Andante, 
Scherzo. Allegro vivace, Rondo. Allegro ma non troppo
Robert Schumann (1810-1856):
Eintritt,
 Jäger auf der Lauer, Einsame Blumen, Verrufene Stelle, Freundliche Landschaft Herberge,
Vogel als Prophet, Jagdlied,
 Abschied
Maurice Ravel (1875-1937):
2. Oiseaux tristes 3. Une barque sur l ́océan 4. Alborada del gracioso
Programm 2: Piano Symphonics
Johann Sebastian Bach (1685-1750):
French Overture in b minor BWV 831,
Ouverture, Courante,
 Gavotte I – II – I, Passepied I – II – I, Sarabande, Bourrée I – II – I, Gigue,
 Echo
Joseph Haydn (1732-1809):
Sonate in E flat major Hob. XVI:52
Allegro moderato Adagio
 Finale: Presto
Charles Valentin Alkan (1813-1888):
Symphony for piano solo Op. 39 No. 4-7
Allegro Marche funèbre Menuett Finale: Presto
Programm 3: Piano and Dance

Johann Sebastian Bach (1685-1750):
Partita No. 2 in c minor BWV 826 Sinfonia, Allemande, Courante, Sarabande, Rondeau, Capriccio
Béla Bartók (1881-1945):
Moderato Allegro molto Allegro vivace Molto tranquillo Comodo
, Finale. Allegro
Intermission
Robert Schumann (1810-1856):
Davidsbündlertänze Op. 6,
1. Lebhaft, 
2. Innig
, 3. Etwas hahnebüchen,
 4. Ungeduldig,
 5.  Einfach, 
6.Sehr rasch und in sich hinein
, 7. Nicht schnell mit äußerst starker Empfindung, 8. Frisch, 
9. Keine Tempoangabe, 10. Balladenmäßig sehr rasch, 11. Einfach
, 12. Mit Humor,
 13. Wild und lustig ,14. Zart und singend, 15. Frisch, 
16. Mit gutem Humor, 17. Wie aus der Ferne, 18. Nicht schnell