______________________________________________
22th October: New CD Release with Schaghajegh Nosrati
After two CD's with compositions by J.S. Bach, both highly acclaimed by the critics, for her new CD in a collaboration with Deutschlandradio Kultur and the German label CAvI Music the pianist has recorded works for solo piano by the French composer Charles Valentin Alkan.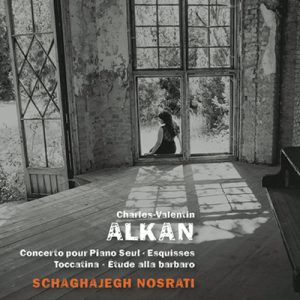 For this release two release concerts will take place: on 25th October at Anneliese Brost Musikforum (Bochum, Germany) and on 12th November at PianoSalon Christophori (Berlin, Germany)
________________________________________
2nd September, 2019 New Reger-CD with Ira Levin to be released on 11th October by Naxos
Orchestral Works by Max Reger and Max Reger/Ira Levin with the Brandenburg State Orchestra under the baton of Ira Levin! On the label's website you can read: "In 1904 Max Reger wrote what was to be the first in a major sequence of variations on themes by his great predecessors. The Variations and Fugue on a Theme by J.S. Bach was written for piano but its richness and virtuosity exceed the scope of the instrument. Ira Levin's 
orchestration clarifies the structure, intensifies climaxes and reduces its length. The Four Tone Poems explore the paintings of the symbolist Arnold Boecklin and form symphonic mood pictures that veer from delicacy to Bacchanalian frenzy. On YouTube you already can have a listen
https://youtu.be/Bm13JuwC_ns.
________________________________________
7th June, 2019 General Management for Maya Levy (violin)
The young French/Belgian violinist Maya Levy is a multiple prize winner at Internat. Competitions. Her most recent awards include the silver medal at Manhattan International Music Competition in 2019, laureate at the K. Szymanowski Competition in 2018 and the "Supernova" prize at the Klara Festival in 2017.
As a soloist with orchestras and as a chamber musician as well, she regularly is performing at renowned venues throughout Europe and outside. 
Her highly acclaimed debut CD with all violin sonatas by E. Grieg has been released in 2016. "The Strad" praises Maya Levy's "captivating fantasy and freshness" and continues: "An Intoxicating exhilarating recording of lesser-known Grieg". To receive more information about this highly talented violinist please follow this link: click.
________________________________________
18th April 2019:  Schaghajegh Nosrati debuts at Pierre Boulez Saal Berlin (Germany) on 26th April 2019
After highly praised performances at prestigious venues and festivals like Vienna Musikverein, Mozarteum Salzburg, BOZAR Brussels, Elbphilharmonie Hamburg and Lucerne Festival the pianist Schaghajegh Nosrati now is invited by Daniel Barenboim to give her debut at the Pierre Boulez Saal in Berlin (Germany). The young pianist takes the Pierre Boulez Saal stage in place of Radu Lupu, who had to withdraw from his recital due to illness. Schaghajegh Nosrati, who currently completes her studies with Sir András Schiff at the Barenboim-Said Akademie, presents an evening dedicated to the key of C minor: Johann Sebastian Bach's Partita No. 2 (see video) is juxtaposed with a pair of iconic sonatas, Beethoven's "Grande Sonate Pathétique" and Schubert's late work D 958.
______________________________________________
6th May 2019: General Management for Omar Massa (bandoneon)
"…one of the great authorities on his instrument, equally at home in baroque music as in Argentine tango"
Süddeutsche Zeitung (Germany)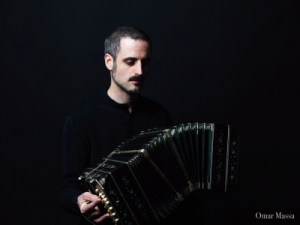 Omar Massa is a bandoneon player, composer and arranger from Buenos Aires – Argentina, based in Europe since 2016.
Regarded by the critics as an expert on Astor Piazzolla's music – whose work he has interpreted from the age of six – Omar has often been the connecting bridge between classical music and Argentine tango music.
He has performed and participated in projects with internationally renowned artists such as Placido Domingo, Eugene Kohn (Conductor of Maria Callas, Luciano Pavarotti), Bruno Delepelaire (1st Cello soloist, Berlin Philharmonic), Tomasz Tomaszewski (Concertmaster, Deutsche Oper Berlin), Máté Szücs (1st Viola soloist, Berlin Philharmonic), Markus Däunert (Concertmaster & co-founder of Claudio Abbado's Mahler Chamber Orchestra), and Janne Saksala (1st Double Bass soloist, Berlin Philharmonic).
Omar has been a pioneer in taking his instrument to concert halls to play works from the academic repertoire, especially those from the European and Latin American Baroque. He already has performed at prestigious halls like Lincoln Center New York, Reithalle Offenburg, National Concert Hall in Dublin, Teatro Colón in Buenos Aires and the Palacio de Bellas Artes in Mexiko-Stadt.
As a soloist he has performed with symphony orchestras and chamber groups like the Asturias Symphony Orchestra, the Romanian National Radio Orchestra, the Buenos Aires Philharmonic, the Moldova Philharmonic Orchestra, the Biel Solothurn Symphony Orchestra, the Philharmonic Stat Sibiu, the Brasov Philharmonic, the Kamerata Kronstadt among others.
On 19th May 2019 Omar Massa will debut at Berlin Philharmonie. At the gala concert of the PHIL HARMONIKA festival 2019, which will be held under the auspices of the Embassy of Argentina, together with the Berlin Senator for culture and Europe, Dr. Klaus Lederer, Omar Massa, Pavlin Nechev (piano) and the string section of the Berlin Philharmonic Orchestra will perform the premiere of Massa's "Concerto for Bandoneon, Piano, and String Orchestra".
______________________________________________