Biography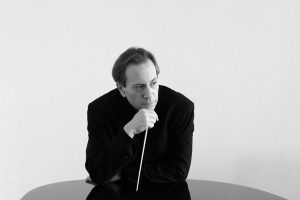 Ira Levin has conducted over 1000 operatic performances and his repertoire encompasses 70 different titles. His symphonic repertoire includes most of the standard repertoire as well as many lesser-known works. He has worked with innumerable internationally renowned conductors, instrumentalists, singers and stage directors and is also an active concert pianist and composer/arranger.
Since September 2019 he is the  Maestro Titular (Cief Conductor) of the Theatro Municipal in Rio de Janeiro, the largest opera house in Brazil and the second largest in South America after the Teatro Colon in Buenos Aires.
He was the Principal Guest Conductor of the legendary Teatro Colon in Buenos Aires from 2011-15, where he conducted 12 major opera productions, including the American premieres of Enescu's Oedipe and Glanert's Caligula, and many symphonic concerts. He previously served as Music Director and Artistic Director of the Teatro Municipal in Sao Paulo (2002-2005) and of the National Theater of Brazil, in Brasilia (2007-2010), bringing both international acclaims. He introduced several important works by Mahler, Janacek, Shostakovich, Sibelius, Busoni, Enescu, Schoenberg, Schnittke, Corigliano and many others to Brazil.
He held posts as assistant conductor at the Frankfurt Opera (1985-88), principal conductor of the Bremen Opera (1988-1996) and the Deutsche Oper am Rhein, Düsseldorf-Duisburg (1996-2002) and as the principal guest conductor of the Kassel Opera (1994-1998). He has performed with many orchestras and at opera houses throughout the world including the Dresden Staatskapelle, the Leipzig Gewandhausorchester, the Frankfurt Museum Orchestra, the Düsseldorfer Symphony, the Duisburg Philharmonic, the Hannover State Orchestra of Lower Saxony, the Bruckner Orchestra of Linz, the Badische Staatskapelle of Karlsruhe, the Bremen Philharmonic, the Dublin Opera, the Montpellier Opera, the Norske Opera in Oslo, the Norrlands Opera in Umea, Sweden, the Cape Town Opera, the National Portuguese Symphony Orchestra in Lisbon, the State of Mexico Symphony Orchestra, the Buenos Aires Philharmonic and all of the major orchestras in Brazil. He gave his highly successful debut in the Berlin Philharmonic Hall in November 2013 with the Berlin Symphony, conducting his orchestration of Busoni's Fantasia Contrappuntistica and Schumann's Fourth Symphony as well as playing a Mozart piano concerto.
Ira Levin's recordings include two CDs of works by the American composer Michael Colina with the London Symphony on the Fleur de Son and Naxos labels, which was followed in the fall of 2014 by Colina's Requiem with the Royal Scottish National Orchestra on the same labels. His CD of his original transcriptions Ira Levin piano transcriptions released by Lindoro, won the Bravo award in Brazil as best classical CD of 2007. The first studio recording of the 1899 first edition of Bruckner's Symphony No. 6 on the Lindoro label will be followed in 2016 by the world premiere recording of the 1892 first edition of Bruckner's Symphony No. 2, both with the Symphony Orchestra of the Norrlands Opera, Sweden.
The Finnish Edition Tilli has published all of his numerous transcriptions for piano. His orchestrations for large orchestra of Busoni's monumental piano work, Fantasia Contrappuntistica, Liszt's Fantasy and Fugue on BACH, Franck's piano quintet as Symphony in f-minor five piano and choral works by Rachmaninoff as Five Pieces for Orchestra and Reger's massive Variations and Fugue on a theme by Bach opus 81 have had performances with the Berlin Symphony at Berlin Philharmonic Hall, with the leading orchestras of Hannover, Brandenburg. Helsinki, Turku, Buenos Aires, Porto Alegre, Montevideo and elsewhere and are being recorded in 2016 for both CD and DVD releases. They are also published by Edition Tilli.
An accomplished pianist, Ira Levin was the first-prize winner of the American National Chopin Competition in 1980. He studied for eight years with the legendary Jorge Bolet at the Curtis Institute, later becoming his assistant, while also studying conducting with Max Rudolf. He has performed throughout the United States, South America, and Europe and continues to appear in recital and concert, often leading concertos from the keyboard as well, including works by Mozart, Weber, Bach and even Brahms's second concerto, which he conducted and played after a major soloist cancelled on short notice.
He has lived since 2011 in Berlin.
John Adams:
Johann Sebastian Bach:
Brandenburg Concertos, Concertos, Cantatas, Suites
Samuel Barber:
Second Essay, Medea's Meditation and Dance of Vengeance, Piano Concerto
Bela Bartok:
The Miraculous Mandarin, Concerto for Orchestra, Complete Piano Concertos,  Violin Concerto No. 2, Viola Concerto, Music for  strings, percussion & celesta, Dance Suite, Divertimento
Ludwig van Beethoven:
Complete Symphonies, Complete Concertos, Complete Overtures, Missa Solemnis
Alban Berg:
Hector Berlioz:
Overtures Roman Carnival, Benvenuto Cellini, 
Beatrice and Benedict, King Lear,
  Corsaire, 
Romeo et Juliette, 
Requiem, 
Te Deum, 
La Damnation de Faust, 
Harold en Italie, 
  Symphonie fantastique, 
Chasse Royale et Orage, 
March Troyenne
Leonard Bernstein:
The Age of Anxiety, Halil, Symphonic Dances from West Side Story, Candide overture
Franz Berwald:
Ernst Bloch:
Johnannes Brahms:
Complete Symphonies, Complete Concertos, Complete Overtures, Haydn Variations,
 Piano Quartet No. 1 (orchestration by A. Schoenberg), A German Requiem, Gesang der Parzen,
 Alto Rhapsody, Song of Destiny, Serenade No. 2
Benjamin Britten:
Sinfonia da Requiem, Four Sea Interludes
Max Bruch:
Anton Bruckner:
Symphonies Nos. 1 (Linz), 2 (1892), 3 (1889), 4 (1888), 5, 6 (1899), 7, 8 (Nowak), 9, Te Deum
Ferruccio Busoni:
Fantasia Contrappuntistica (orchestration by Ira Levin), Turandot Suite, Die Brautwahl Suite,
 Piano Concerto, Violin Concerto, Indian Fantasy, Berceuse élégiaque, Sarabande & Cortege, 
Geharnischte Suíte, Nocturne Symphonique
Ernest Chausson:
Poeme de L'Amour et de la Mer, Poeme
Carlos Chavez:
Frédéric Chopin:
Michael Colina:
Los Caprichos, Violin Concerto, Guitar Concerto, The Unbearable Lightness of Being, 
Baba Yaga Fantasy
John Corigliano:
Claude Debussy:
La Mer, Nocturnes, Iberia, Prélude a l'apres midi d'un faune
Alphons Diepenbrock:
Paul Dukas:
Henri Dutilleux:
Antonin Dvorak:
Symphonies Nos. 6, 7, 8, 9, Carnival Overture Scherzo Capriccioso, Symphonic Variations, 
The Wild Dove, Slavonic Dances op. 46 Piano, Violin and Cello Concertos
Edward Elgar:
Symphony No. 1, Enigma Variations,  Cello Concerto, Falstaff
George Enescu:
Suite No. 1 Romanian Rhapsody No. 1
De Falla:
El Amor Brujo, The Three Cornered Hat suite
Cesar Franck:   
Symphony in f-minor (orchestration of the Piano Quintet by Ira Levin), Symphony, 
Le Chasseur Maudit, Symphonic Variations, Psyche and Eros
George Gershwin:
Concerto in F, Rhapsody in Blue, Cuban Overture, An American in Paris, Catfish Row, 
(Porgy and Bess suíte)
Camargo Guarnieri:
Abertura Festiva, Abertura Concertante, Piano Concerto No. 2, Choro for cello, Three Dances
Edvard Grieg:
Peer Gynt Suites Nos. 1, 2, Piano Concerto
Georg Friedrich Handel:
Royal Fireworks Music, Water Music
Joseph Haydn:
The Creation, The Seasons, Nelson Mass, Harmonie Mass, Seven Last Words
(orchestral version), Symphonies Nos. 31, 44, 45, 48, 49, 60, 68, 82, 83, 86, 88, 90, 92, 93-104, 
Piano and Cello Concertos
Karl Amadeus Hartmann:
Gesangsszene, Symphony No. 6
Paul Hindemith:
Symphonic Metamorphosis on Themes by Weber, Mathis der Maler Symphony,
Nobilissima Visione, Symphony in Eb, Concert Music for Strings and Brass, Concerto for Orchestra
Gustav Holst:
Jacques Ibert:
Vincent d'Indy:
Andre Jolivet:
Piano Concerto, Basson Concerto
Leoš Janácek:
Sinfonietta, Glagolitic Mass
Aram Khachaturian:
Zoltan Kodaly:
Eduardo Lalo:
Franz Liszt:
Faust Symphony, Fantasia and Fugue on BACH (orchestration by Ira Levin), Orpheus, Tasso, 
Les Preludes, Heroide Funebre, Piano Concertos & Totentanz
Witold Lutoslawski:
Gustav Mahler:
Symphonies Nos. 1, 2, 3, 5, 6, 7, 9,10 (Cooke), Kindertotenlieder, Rückert Lieder, Lieder eines 
fahrenden Gesellen, Des Knaben Wunderhorn, Das Lied von der Erde
Frank Martin:
Bohuslav Martinu:
Double Concerto, 
Violin Concerto No. 2, 
Memorial for Lidice, 
The Parables
Felix Mendelssohn:
Symphonies Nos. 3, 4, 5, 
Overtures –The Fair Melusine, Hebrides, Calm Sea and Prosperous 
Voyage, 
Rob Roy, 
A Midsummer Night's Dream –complete incidental music, 
Die Erste 
Walpurgisnacht, 
Piano & Violin Concertos
Wolfgang Amadeus Mozart:
Piano Concertos Nos. 9, 14 – 27, 
Symphonies Nos. 25, 26, 28, 29, 33-41, 
Mass c-minor, 
Violin 
and Wind Concertos, 
Serenades & Divertimentos, 
Masonic Funeral Music
Carl Nielsen:
Symphonies Nos. 1, 2, 3, 4, 5, 
Maskarade overture
Marlos Nobre:
Convergencias, Concerto Breve, Divertimento
Almeida Prado:
Sergei Prokofiev:
Scythian Suite Romeo and Juliet-Suites Nos. 1 & 2,  Complete Concertos, Symphonies Nos. 1, 3 & 5, Lieutenant Kije-Suite, Symphonie Concertante
Serge Rachmaninoff:
Complete Piano Concertos and Rhapsody on a theme by Paganini, Isle of the Dead, Symphony No. 2, Symphonic Dances
Maurice Ravel:
Rapsodie Espagnole, La Valse, Mother Goose suite, Daphnis and Chloë Suite No. 2, Piano Concerto for the left hand, Piano Concerto in G
Max Reger:
Psalm No. 100, Serenade in G major, Symphonic Prologue to a Tragedy, Hiller Variations
Ottorino Respighi:
Pini di Roma, Feste Romane
Joaquin Rodrigo
Gioacchino Rossini
Overtures – Semiramide, Guglielmo Tell, La gazza ladra, La Cenerentola, Il barbiere di Siviglia
Miklos Rozsa:
Sinfonia Concertante for violin and cello
Albert Roussel:
Bacchus ed Ariane Suite No.
Camille Saint-Saëns:
Symphony No. 3, Complete Piano Concertos, Violin Concerto No. 3
Claudio Santoro:
Florent Schmitt:
Alfred Schnittke:
Viola Concerto, Cello Concerto No. 1, Concerto grosso No. 1
Arnold Schönberg:
Pelleas und Melisande, Chamber Symphony No. 1 (version for full orchestra), Verklärte Nacht, Five Orchestra Pieces, Survivor from Warsaw
Franz Schreker:
Franz Schubert:
Symphonies Nos. 2, 4, 5, 8 & 9, Symphony in C "Grand Duo" orchestrated by Joachim
Robert Schumann:
Complete Symphonies Piano & Cello Concertos, Overtures – Manfred, Genoveva, Scenes from Faust
Alexander Scriabin:
Dimitri Shostakovich:
Symphonies Nos. 1, 4, 5, 6, 9,10 & 15, Violin Concertos Nos.1 and 2, Cello Concerto No. 1
Jean Sibelius:
Kullervo Symphony, Symphonies Nos. 1, 2, 3, 4, 5 & 7, Pohjolas Daughter, The Tempest Suites, Violin concerto, Lemminkäinen Legends opus 22, Oceanides, Rakastava, Luonnotar
Bedrich Smetana:
Karol Szymanowski:
Johann Strauss Jr.:
Die Fledermaus Overture, Waltzes, Polkas and Marches
Richard Strauss:
Don Juan, Tod und Verklärung, Till Eulenspiegel, Don Quixote, Ein Heldenleben, Der Rosenkavalier Suite, Die Frau ohne Schatten Suite, Bürger als Edelmann Suite, Four Last Songs
Igor Stravinsky:
The Firebird Suite (1919), Petrushka (1947), Le Sacre du Printemps, Pulcinella (complete), Jeu de Cartes, Symphony in Three Movements
Josef Suk:
Sergei Taneyev:
Peter Tchaikowsky:
Symphonies Nos. 1, 2, 4, 5,& 6, Manfred Symphony, Francesca da Rimini, Romeo and Juliet, The Tempest, Hamlet, Voyevoda, Suite No. 3, Complete Concertos, Nutcracker (complete), Swan Lake (complete), Sleeping Beauty (complete)
Ralph Vaughan-Williams:
Symphonies Nos. 5, 6, Fantasia on Themes by Thomas Tallis
Giuseppe Verdi:
Requiem, Te Deum Overtures – La Forza del Destino, Luisa Miller, I Vespri Siciliani
Jan Vorisek:
Heitor Villa-Lobos:
Uirapuru, Amazonas, Bachianas Brasileiras Nos. 2, 4, 5& 7, Choros Nos. 6, 10, Guitar Concerto
Richard Wagner:
Overtures and orchestral exerpts from: Lohengrin, Tannhäuser, Ring, Parsifal, Tristan und Isolde, Meistersinger, Rienzi, Faust Overture
Carl Maria von Weber:
Symphony No. 1, Overtures – Der Freischütz, Euryanthe, Oberon, Ruler of the Spirits
Anton Webern:
Hugo Wolf:
Penthesilea, Prometheus, Harfenspieler 1-3
Marco Aurelio Yano:
Programme