Biografie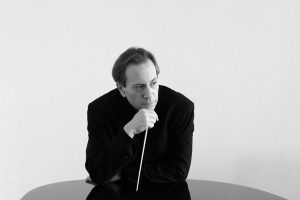 Ira Levin ist international für seine herausragende musikalische Vielfältigkeit bekannt. In mehr als 1200 Vorstellungen hat er 95 Operntitel dirigiert, und im Bereich symphonischer Konzerte ist er mit einem gleichfalls sehr umfangreichen Repertoire ebenso zu Hause. In seiner Karriere arbeitete er mit vielen führenden Sängern und Instrumentalisten, Komponisten, Regisseuren und Orchestern zusammen, wobei er an zahlreichen wichtigen Opern- und Konzerthäusern der Welt dirigierte.
Ira Levin studierte zunächst im Fach Klavier beim legendären Jorge Bolet am Curtis Institut, wo er später auch der Assistent seines Lehrmeisters wurde. Ebenfalls am Curtis Institute nahm er Unterricht bei Felix Galimir, Mischa Schneider und Mieczyslaw Horszowski,. Er spielte unter Leonard Bernstein and studierte zwei Jahre bei Max Rudolf, einem der führenden Pädagogen des 20. Jahrhunderts im Fach Dirigieren. Im Anschluss daran, in 1985, führte Ira Levins Weg schließlich als Assistent von Michael Gielen an die Frankfurter Oper (1985 – 1988), wo er auch sein Debüt als Dirigent mit "Fidelio" gab. Es folgten Engagements als 1. Kapellmeister am Theater Bremen (1988-1996), an der Deutschen Oper am Rhein Düsseldorf-Duisburg (1996-2002) sowie von 1994-1998 als 1. Gastdirigent am Staatstheater Kassel.
Ira Levin war musikalischer und künstlerischer Direktor des Teatro Municipal und des Städtischen Orchesters von São Paulo (2002-2005), des Brasilianischen National Theaters in Brasilia (2007-2010) und des Teatro Municipal in Rio de Janeiro (2019-2021). Alle drei Häuser führte er während seiner Tätigkeit mit großer internationaler Anerkennung. Dabei machte er das brasilianische Publikum mit zahlreichen wichtigen Werken der Opern- und Konzertliteratur bekannt, darunter 3 Opern von Janacek (Jenufa, Katja Kabanova, Makropulos Affair), Mahlers 10. Sinfonie, Schostakowitschs 4. Sinfonie, und zudem Kompositionen von Sibelius, Busoni, Reger, Enescu, Schoenberg, Schmitt, Schnittke, Jolivet, Corigliano u.v.a.
Von 2011 bis 2015 war er Erster Ständiger Gastdirigent des legendären Teatro Colón Buenos Aires, wo er 12 Opern Produktionen, einschließlich der Amerikanischen Premieren von Enescus "Oedipe" und Glanerts "Caligula", sowie zahlreiche Konzerte dirigierte.
Als Gastdirigent trat Ira Levin u.a. auch mit bzw. an folgenden Orchestern und Spielstätten auf: Sächsische Staatskapelle Dresden (Semperoper), Leipziger Gewandhaus-Orchester, New York City Opera, Grand Theatre Geneve, Frankfurter Museumsorchester, Düsseldorfer Symphoniker, Duisburger Philharmoniker, Berliner Symphoniker, Brucknerochester Linz, Norske Opera in Oslo, Norrlands Opera in Umea, Cape Town Opera, Badische Staatskapelle, Bremer Philharmoniker, Orchestre Symphonique de Quebec, Portugiesisches Sinfonieorchester in Lissabon, das Staatliche Sinfonieorchester von Mexiko, Nationales Sinfonieorchester von Taiwan, Orchester der Oper von Dublin, Montpellier, dNorske Opera in Oslo, Oper von Kapstadt, Buenos Aires Philharmoniker sowie alle wichtige Orchester Brasiliens.
Ira Levin's 6 CD-Einspielungen umfassen 3 CDs mit Werken des amerikanischen Komponisten Michael Colina. Davon wurden 2 Cds mit dem London Symphony und eine weitere, Colina's Requiem mit dem Royal Scottish National Orchestra aufgenommen. Alle drei CDs erschienen beim Label "Fleur de Son" und im Vertrieb von Naxos. Die erste Studioaufnahme der 1899 Edition von Bruckners Sinfonie Nr. 6 erschein beim Label Lindoro. Ira Levins von der Kritik hochgelobten Aufnahmen von Kompositionen Max Regers mit dem Brandenburgischen Staatsorchester Frankfurt/O., einschließlich seiner eigenen Orchestrierung von Regers "Variationen und Fugue über ein Thema J.S Bach opus 81", erschien beim Label Naxos im Oktober 2020.
Zusätzlich zu seiner umfangreichen Tätigkeit als Dirigent hat Ira Levin zahlreiche Klaviertranskriptionen und Orchestrierungen geschrieben. Neben mehreren Klaviertranskriptionen und Kadenzen zu diversen Mozart-Konzerten zählen auch die Orchestrierungen für großes Orchester von Busonis monumentaler "Fantasia Contrapuntistica", Liszts "Fantasie und Fuge nach BACH", Francks Klavier-Quintett, Regers "Variationen und Fugue über ein Thema von J.S. Bach, op. 81", Respighis Violinsonate in h-Moll sowie Brahms' Klaviersonate Nr. 3 op. 5 zu seinem Werk.
Alle vorgenannten Transkriptionen und Orchestrieren wurden vom finnischen Verlag Willi verlegt, wobei die vollständigen Orchestrierungen auch als Studien-Partitur-Format in der Reihe "Repertoire Explorer" des Münchner Verlegers Jürgen Höflich erscheinen.
Als Pianist gewann Levin den 1. Preis beim Amerikanischen Chopin-Wettbewerb 1980. Er spielte in den USA, Südamerika und Europa und tritt weiterhin in Klavierabenden und Konzerten auf, die er häufig auch als Dirigent vom Flügel aus leitet.
John Adams:
Johann Sebastian Bach:
Brandenburg Concertos, Concertos, Cantatas, Suites
Samuel Barber:
Second Essay, Medea's Meditation and Dance of Vengeance, Piano Concerto
Bela Bartok:
The Miraculous Mandarin, Concerto for Orchestra, Complete Piano Concertos,  Violin Concerto No. 2, Viola Concerto, Music for  strings, percussion & celesta, Dance Suite, Divertimento
Ludwig van Beethoven:
Complete Symphonies, Complete Concertos, Complete Overtures, Missa Solemnis
Alban Berg:
Hector Berlioz:
Overtures Roman Carnival, Benvenuto Cellini, 
Beatrice and Benedict, King Lear,
  Corsaire, 
Romeo et Juliette, 
Requiem, 
Te Deum, 
La Damnation de Faust, 
Harold en Italie, 
  Symphonie fantastique, 
Chasse Royale et Orage, 
March Troyenne
Leonard Bernstein:
The Age of Anxiety, Halil, Symphonic Dances from West Side Story, Candide overture
Franz Berwald:
Ernst Bloch:
Johnannes Brahms:
Complete Symphonies, Complete Concertos, Complete Overtures, Haydn Variations,
 Piano Quartet No. 1 (orchestration by A. Schoenberg), A German Requiem, Gesang der Parzen,
 Alto Rhapsody, Song of Destiny, Serenade No. 2
Benjamin Britten:
Sinfonia da Requiem, Four Sea Interludes
Max Bruch:
Anton Bruckner:
Symphonies Nos. 1 (Linz), 2 (1892), 3 (1889), 4 (1888), 5, 6 (1899), 7, 8 (Nowak), 9, Te Deum
Ferruccio Busoni:
Fantasia Contrappuntistica (orchestration by Ira Levin), Turandot Suite, Die Brautwahl Suite,
 Piano Concerto, Violin Concerto, Indian Fantasy, Berceuse élégiaque, Sarabande & Cortege, 
Geharnischte Suíte, Nocturne Symphonique
Ernest Chausson:
Poeme de L'Amour et de la Mer, Poeme
Carlos Chavez:
Frédéric Chopin:
Michael Colina:
Los Caprichos, Violin Concerto, Guitar Concerto, The Unbearable Lightness of Being, 
Baba Yaga Fantasy
John Corigliano:
Claude Debussy:
La Mer, Nocturnes, Iberia, Prélude a l'apres midi d'un faune
Alphons Diepenbrock:
Paul Dukas:
Henri Dutilleux:
Antonin Dvorak:
Symphonies Nos. 6, 7, 8, 9, Carnival Overture Scherzo Capriccioso, Symphonic Variations, 
The Wild Dove, Slavonic Dances op. 46 Piano, Violin and Cello Concertos
Edward Elgar:
Symphony No. 1, Enigma Variations,  Cello Concerto, Falstaff
George Enescu:
Suite No. 1 Romanian Rhapsody No. 1
De Falla:
El Amor Brujo, The Three Cornered Hat suite
Cesar Franck:   
Symphony in f-minor (orchestration of the Piano Quintet by Ira Levin), Symphony, 
Le Chasseur Maudit, Symphonic Variations, Psyche and Eros
George Gershwin:
Concerto in F, Rhapsody in Blue, Cuban Overture, An American in Paris, Catfish Row, 
(Porgy and Bess suíte)
Camargo Guarnieri:
Abertura Festiva, Abertura Concertante, Piano Concerto No. 2, Choro for cello, Three Dances
Edvard Grieg:
Peer Gynt Suites Nos. 1, 2, Piano Concerto
Georg Friedrich Handel:
Royal Fireworks Music, Water Music
Joseph Haydn:
The Creation, The Seasons, Nelson Mass, Harmonie Mass, Seven Last Words
(orchestral version), Symphonies Nos. 31, 44, 45, 48, 49, 60, 68, 82, 83, 86, 88, 90, 92, 93-104, 
Piano and Cello Concertos
Karl Amadeus Hartmann:
Gesangsszene, Symphony No. 6
Paul Hindemith:
Symphonic Metamorphosis on Themes by Weber, Mathis der Maler Symphony,
Nobilissima Visione, Symphony in Eb, Concert Music for Strings and Brass, Concerto for Orchestra
Gustav Holst:
Jacques Ibert:
Vincent d'Indy:
Andre Jolivet:
Piano Concerto, Basson Concerto
Leoš Janácek:
Sinfonietta, Glagolitic Mass
Aram Khachaturian:
Zoltan Kodaly:
Eduardo Lalo:
Franz Liszt:
Faust Symphony, Fantasia and Fugue on BACH (orchestration by Ira Levin), Orpheus, Tasso, 
Les Preludes, Heroide Funebre, Piano Concertos & Totentanz
Witold Lutoslawski:
Gustav Mahler:
Symphonies Nos. 1, 2, 3, 5, 6, 7, 9,10 (Cooke), Kindertotenlieder, Rückert Lieder, Lieder eines 
fahrenden Gesellen, Des Knaben Wunderhorn, Das Lied von der Erde
Frank Martin:
Bohuslav Martinu:
Double Concerto, 
Violin Concerto No. 2, 
Memorial for Lidice, 
The Parables
Felix Mendelssohn:
Symphonies Nos. 3, 4, 5, 
Overtures –The Fair Melusine, Hebrides, Calm Sea and Prosperous 
Voyage, 
Rob Roy, 
A Midsummer Night's Dream –complete incidental music, 
Die Erste 
Walpurgisnacht, 
Piano & Violin Concertos
Wolfgang Amadeus Mozart:
Piano Concertos Nos. 9, 14 – 27, 
Symphonies Nos. 25, 26, 28, 29, 33-41, 
Mass c-minor, 
Violin 
and Wind Concertos, 
Serenades & Divertimentos, 
Masonic Funeral Music
Carl Nielsen:
Symphonies Nos. 1, 2, 3, 4, 5, 
Maskarade overture
Marlos Nobre:
Convergencias, Concerto Breve, Divertimento
Almeida Prado:
Sergei Prokofiev:
Scythian Suite Romeo and Juliet-Suites Nos. 1 & 2,  Complete Concertos, Symphonies Nos. 1, 3 & 5, Lieutenant Kije-Suite, Symphonie Concertante
Serge Rachmaninoff:
Complete Piano Concertos and Rhapsody on a theme by Paganini, Isle of the Dead, Symphony No. 2, Symphonic Dances
Maurice Ravel:
Rapsodie Espagnole, La Valse, Mother Goose suite, Daphnis and Chloë Suite No. 2, Piano Concerto for the left hand, Piano Concerto in G
Max Reger:
Psalm No. 100, Serenade in G major, Symphonic Prologue to a Tragedy, Hiller Variations
Ottorino Respighi:
Pini di Roma, Feste Romane
Joaquin Rodrigo
Gioacchino Rossini
Overtures – Semiramide, Guglielmo Tell, La gazza ladra, La Cenerentola, Il barbiere di Siviglia
Miklos Rozsa:
Sinfonia Concertante for violin and cello
Albert Roussel:
Bacchus ed Ariane Suite No.
Camille Saint-Saëns:
Symphony No. 3, Complete Piano Concertos, Violin Concerto No. 3
Claudio Santoro:
Florent Schmitt:
Alfred Schnittke:
Viola Concerto, Cello Concerto No. 1, Concerto grosso No. 1
Arnold Schönberg:
Pelleas und Melisande, Chamber Symphony No. 1 (version for full orchestra), Verklärte Nacht, Five Orchestra Pieces, Survivor from Warsaw
Franz Schreker:
Franz Schubert:
Symphonies Nos. 2, 4, 5, 8 & 9, Symphony in C "Grand Duo" orchestrated by Joachim
Robert Schumann:
Complete Symphonies Piano & Cello Concertos, Overtures – Manfred, Genoveva, Scenes from Faust
Alexander Scriabin:
Dimitri Shostakovich:
Symphonies Nos. 1, 4, 5, 6, 9,10 & 15, Violin Concertos Nos.1 and 2, Cello Concerto No. 1
Jean Sibelius:
Kullervo Symphony, Symphonies Nos. 1, 2, 3, 4, 5 & 7, Pohjolas Daughter, The Tempest Suites, Violin concerto, Lemminkäinen Legends opus 22, Oceanides, Rakastava, Luonnotar
Bedrich Smetana:
Karol Szymanowski:
Johann Strauss Jr.:
Die Fledermaus Overture, Waltzes, Polkas and Marches
Richard Strauss:
Don Juan, Tod und Verklärung, Till Eulenspiegel, Don Quixote, Ein Heldenleben, Der Rosenkavalier Suite, Die Frau ohne Schatten Suite, Bürger als Edelmann Suite, Four Last Songs
Igor Stravinsky:
The Firebird Suite (1919), Petrushka (1947), Le Sacre du Printemps, Pulcinella (complete), Jeu de Cartes, Symphony in Three Movements
Josef Suk:
Sergei Taneyev:
Peter Tchaikowsky:
Symphonies Nos. 1, 2, 4, 5,& 6, Manfred Symphony, Francesca da Rimini, Romeo and Juliet, The Tempest, Hamlet, Voyevoda, Suite No. 3, Complete Concertos, Nutcracker (complete), Swan Lake (complete), Sleeping Beauty (complete)
Ralph Vaughan-Williams:
Symphonies Nos. 5, 6, Fantasia on Themes by Thomas Tallis
Giuseppe Verdi:
Requiem, Te Deum Overtures – La Forza del Destino, Luisa Miller, I Vespri Siciliani
Jan Vorisek:
Heitor Villa-Lobos:
Uirapuru, Amazonas, Bachianas Brasileiras Nos. 2, 4, 5& 7, Choros Nos. 6, 10, Guitar Concerto
Richard Wagner:
Overtures and orchestral exerpts from: Lohengrin, Tannhäuser, Ring, Parsifal, Tristan und Isolde, Meistersinger, Rienzi, Faust Overture
Carl Maria von Weber:
Symphony No. 1, Overtures – Der Freischütz, Euryanthe, Oberon, Ruler of the Spirits
Anton Webern:
Hugo Wolf:
Penthesilea, Prometheus, Harfenspieler 1-3
Marco Aurelio Yano:
Programme