Biography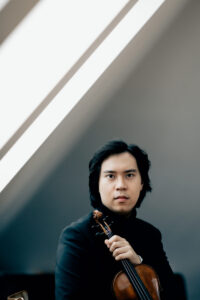 The German-Spanish-Malaysian violinist Elias David Moncado (born 2000) is a multiple First Prize Winner at Internat. Violin Competitions. Among them: First Prize at International Vladimir Spivakov Violin Competition 2021, First Prize at VALSESIA MUSICA International Competition 2021, First Grand Prize plus 10 special prizes as the youngest winner ever at the International Karol Lipinski Violin Competition 2019 in Poland.
In addition, he also is the youngest prizewinner of the 7th International Sendai Violin Competition 2019 in Japan and a major prizewinner of several other international competitions such as Paul-Hindemith-Wettbewerb Berlin, Concours Flame Paris, "Young Paganini" Legnica, Poland, Telemann-Wettbewerb Poznań, Poland, Louis-Spohr-Wettbewerb Weimar, Concorso Postacchini Fermo, Lions-Musikpreis Deutschland and the Concours International de l'Orchestre du Maroc.
As a soloist Elias David Moncado has performed with numerous orchestras like Symphonieorchester des Bayerischen Rundfunks, Philharmonic Orchestras of Freiburg and Heidelberg, Philharmonie Baden-Baden, Zagreber Solisten, Penang Symphony Orchestra Malaysia, Orchestre Philharmonique du Maroc, Polnische Kammerphilharmonie Sopot, Torun Symphony Orchestra Poland, Yamagata Symphony Orchestra Japan and Sendai Philharmonic Orchestra Japan. Among the conductors the young violinist already has collaborated are the conductors such as Fabrice Bollon, Johannes Knapp, Wolfgang Trommer, Wojciech Rajski, Christoph Wyneken, Olivier Holt, Gabriel Adorján, Mariusz Smolij, Ken Takaseki and Nicolás Pasquet.
He was a soloist at the Schleswig-Holstein Musik Festival, Kissinger Musiksommer, Festspiele Mecklenburg-Vorpommern, Brandenburger Sommer, Next Generation Festival Bad Ragaz, Printemps Musical des Alizés, Essaouira, Morocco, Royal Opera House Muscat, Oman, Marschner-Festival Hinterzarten, crescendo Festival Berlin, Salle Alfred Cortot Paris, Teatro Ristori Verona, Alte Kirche Fautenbach Achern and Mozartfestival Schloss Schwetzingen. He appeared on rbb Berlin, WDR Köln, France 3, SWR2 and BR Klassik.
He started playing the violin at the age of four with Keiko Skiba and Prof. Rainer Kussmaul at the Pflügerstiftung Freiburg. At the age of 6, he won the 1st prize with top honors at "Jugend Musiziert" for solo violin.
At the age of 7, he became junior student with Prof. Latica Honda-Rosenberg at the Hochschule für Musik Freiburg and later at the Julius-Stern-Institut of Universität der Künste Berlin.
He was aged 10 when he became the youngest ever recipent of the Europäischer Hoffnungspreis in the history of the European Cultural Foundation Pro Europa. 
At the age of 12, he made his debut at the Berliner Philharmonie with the Deutsches Kammerorchester Berlin. One year later, Elias David Moncado received the Deutsch-Französischen Förderpreis of the Deutsch-Französische Gesellschaft Freiburg.
He was a junior student of Prof. Zakhar Bron since January 2016 at the Interlaken Classics Akademie. The violinist currently is studying with Prof. Pierre Amoyal at the University Mozarteum Salzburg.
He is a scholarship holder of the Freunde Junger Musiker Berlin, Internationale Musikakademie Liechtenstein, Bernbeck-Stiftung, Jürgen Ponto Stiftung and Gen Re.
As a prizewinner and scholarship holder of the Deutsche Stiftung Musikleben Hamburg, Elias David Moncado plays a violin by Giambattista Rogeri of Brescia (around 1700).
Audio/Video
Concerto Repertoire
J. S. Bach (1685-1750)
Violin Concerto in a minor, BWV 1041,
Violin Concerto in E major, BWV 1042,
Double Concerto in d minor, BWV 1043
B. Bartók (1881-1945)
Violin Concerto no. 2, Sz. 112 
L. v. Beethoven (1770-1827)
Violin Concerto in D major, Op.61   
J. Brahms (1833-1897)
Violin Concerto in D major, Op.77
M.Bruch (1838-1920)
Violin Concerto no. 1 in g minor, Op. 26
Violin Concerto in a minor, Op. 53 
E. W. Korngold (1897-1957)
Violin Concerto in D major, Op. 35
E. Lalo (1823-1892)
Symphony Espagnole, Op. 21
F. Mendelssohn-Bartholdy (1809-1847)
Violin Concerto in e minor, Op. 64, MWV O 14,
W. A. Mozart (1756-1791)
Violin Concerto no. 2 in 
D major
, K 211
Violin Concerto no. 3 in 
G major
, K 216
Violin Concerto no. 4 in D-major, K 218 
Violin Concerto no.5 in A major, K 219
Adagio for Violin and Orchestra in E major, K 261
Rondo for Violin and orchestra in C major, K 373
Violin Concerto no. 1 in D major, Op. 6
Violin Concerto no. 1 in D major, Op. 19
Violin Concerto no. 2 in g minor, Op. 63 
   
C. Saint-Saëns (1835-1921)
Violin Concerto no.3 in b minor, Op. 61
D. Schostakowitsch (1906-1975)
Violin Concerto no. 1 in a minor, Op. 77
J. Sibelius (1865-1957)
Violin Concerto in d minor, Op. 47
J. Stamitz (1717-1757)
Violin Concerto in C major, "Dresdner Konzert"
P. I. Tschaikowski (1840-1893)
Violin Concerto in D major,  Op. 35 
G.Viotti (1755-1824)
Violin Concerto no. 22 in A major
A.Vivaldi (1678-1741)
"The Four Seasons", Op. 8
H. Wieniawski (1835-1880)
Violin Concerto no.2 in d minor, Op. 22
Programs
Violin/Piano
Program 1 
C. Franck
Sonata for Violin and Piano in A major
E. Ysaÿe
Solo sonata no. 3, Op. 27, "Ballad"
Intermission
K. Szymanowski
Myths, Op. 30
M. Ravel
Tzigane
_________
Program 2
S. Prokofiev
Sonata nr. 1 in f minor, Op. 80
H. Wieniawski
Polonaise brillante in D major, Op. 4
Intermission
L. v. Beethoven
Violin Sonata no. 10, Op. 96
K. Szymanowski
Nocturne & Tarantella, Op. 28
_________
Program 3
E. Chausson
Poème, Op. 25
S. Prokofiev
Sonata no. 2 in D major, Op. 94
Intermission
G. Fauré
Violin Sonata no. 1 in A major, Op. 13
C. Saint-Saens
Introduction & Rondo Capriccioso 
_________
Program 4
L. v. Beethoven
Violin Sonata no. 5 in F major, Op. 24 – Frühlingssonate –
M. Ravel
Violin Sonata no. 2 in G major
Intermission
E. Grieg
Violin Sonata no. 3 in c minor, Op. 45
C. Saint-Saëns
Introduction and Rondo Capriccioso
_________